MOPED IX GAMES 2022
1st year of traditional multi-battle with pedals
It's over! About two dozen riders on mopeds with a spider under their asses took part in a historical race, in which the rider's skill and endurance was more decisive than his machine. And since MOPED IX GAMES don't know winners or losers, we won't publish the results (but beware: we have them in the archives and will show them during the 2nd edition!). We can only reveal the world time for the 100 sit-up pedal race (started Le Mans style – you run to the machine, jump in and pedal): 21.9 seconds!
DISCIPLÍNY
• 100METRIX: 100 metrů na šlapky s pevným startem (vsedě)
• SVÍČKIX: výměna svíčky na čas
• KOLOHODIX: hod předním kolem z korada
• ŠIKULIX: jízda zručnosti
Podmínky účasti:
• kompletní víceboj: jízdy absolvované na mopedu
(= motor do 50 ccm + šlapky)
• jízda zručnosti: malý motocykl do 50 ccm
• nejízdní disciplíny: minimálně deklarovaný kladný vztah
k mopedům (včetně souhlasu s případným ověřením
na detektoru lži)
DISCIPLINES
• 100METRIX: 100 metres on pedals with fixed start (seated)
• SVÍČKIX: replacing the spark plug on time
• KOLOHODIX: front wheel throw from coracle
• ŠIKULIX: skill ride
Conditions of participation:
complete multi event: rides completed on a moped
(= engine up to 50 cc + pedals)
skill ride: small motorcycle up to 50 cc
non-riding disciplines: minimum declared positive attitude
to mopeds (including agreement to any verification
polygraph test)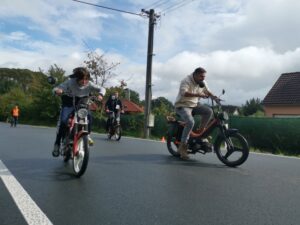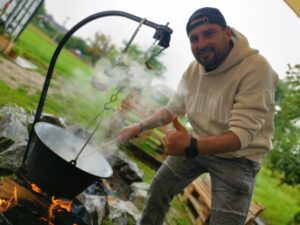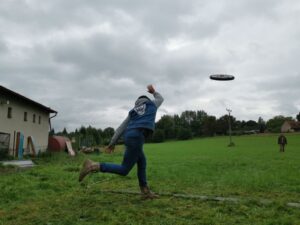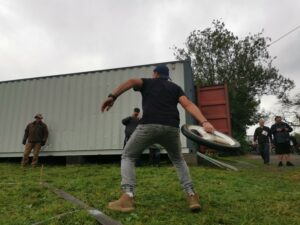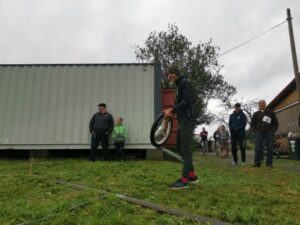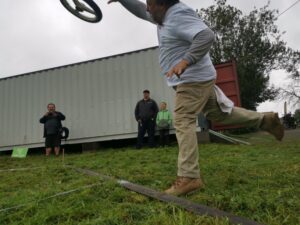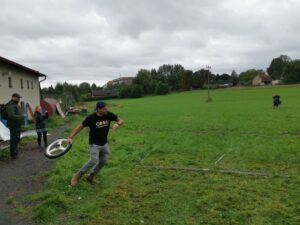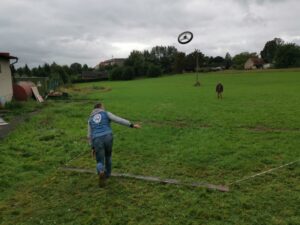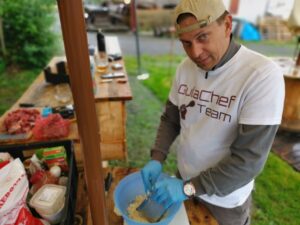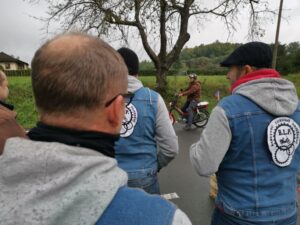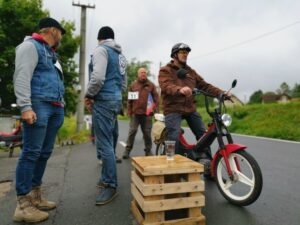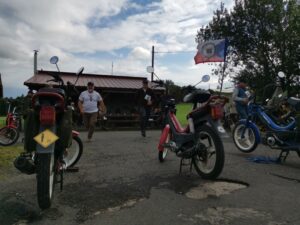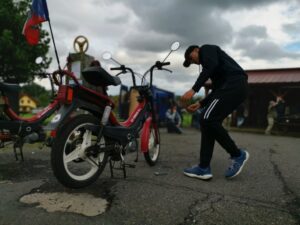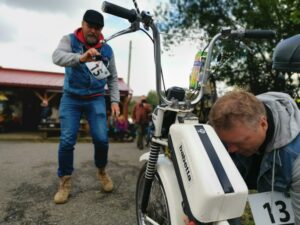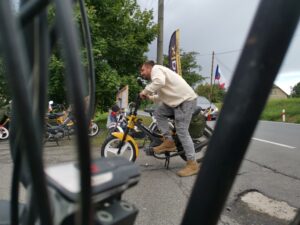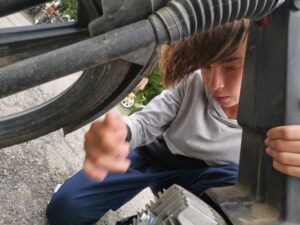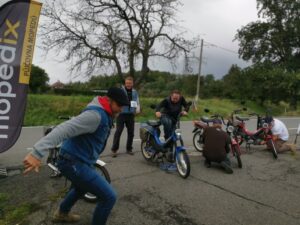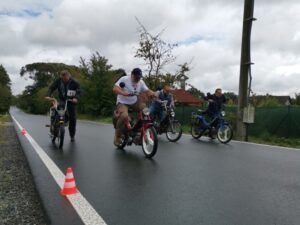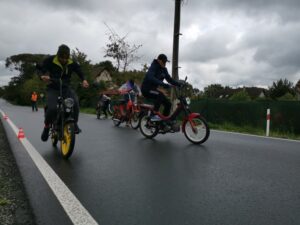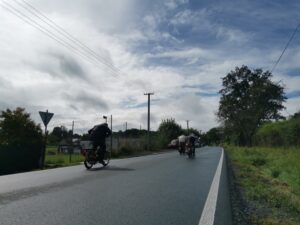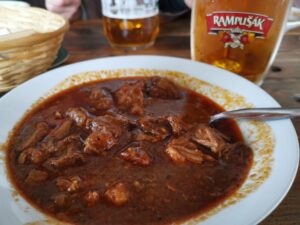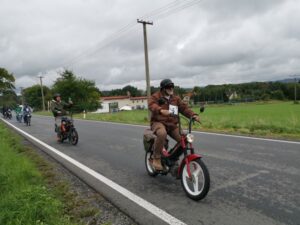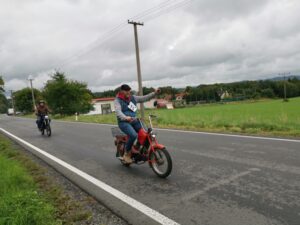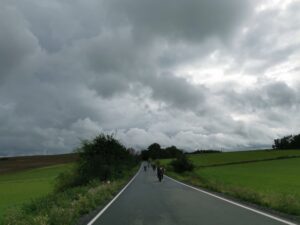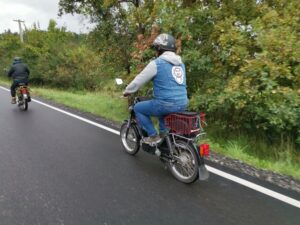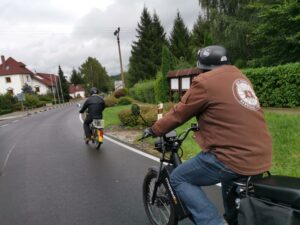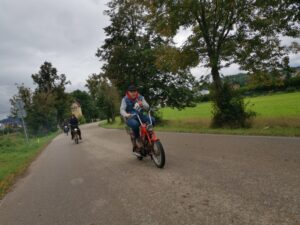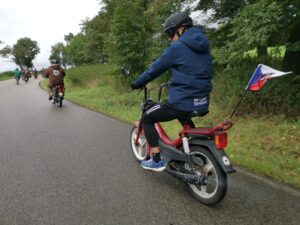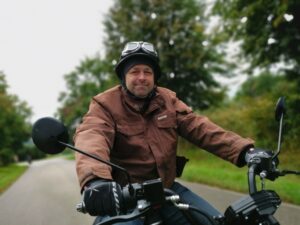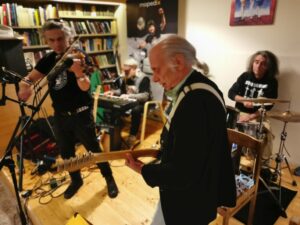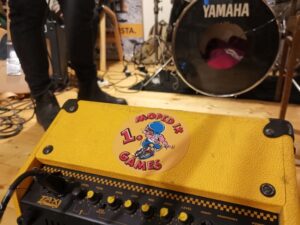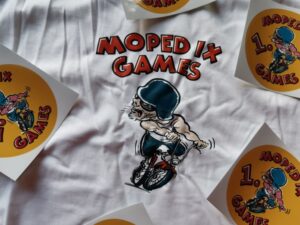 REGISTRATION
Entry fee: 300 CZK
Starting package includes:
1x starting number
1x beer/soft drink 0,5 l
1x sausage with accessories
1x MOPED IX GAMES sticker
You can register right here, or you can read what you can and can't miss first – you can only come to the main programme
on Saturday (it's not compulsory or necessary to do the whole thing from Friday to Sunday, but you know how…), link to the application form
you can find it under the program.
FOR SPECTATORS (NON-RACERS)
Free registration + free test ride on a Manet Korado moped (registration will take place on the day of the race).
TOMBOLA
GRAND PRIZE: half-day moped rental voucher for two (valid for 1 year)
mopedix t-shirts
mopedix socks
mopedix shorts
mopedix caps
FRIDAY 16 SEPTEMBER
Arrival and greeting of the eager, accommodation on the meadow, chatting, first beers / lemonades / drinks
Grillix & musix party, other beers/lemonades/drinks, disco, tactical preparation for games
SATURDAY 17 SEPTEMBER
Registration of competitors
Round 1 of MOPED IX GAMES
Lunch made by Oxford & Goodbar
Siesta, anti-doping tests of drawn competitors
2nd round of MOPED IX GAMES
Announcement of MOPED IX GAMES results (absolute, in individual disciplines)
SUNDAY 18 SEPTEMBER
Breakfast, examination of conscience
Contact the organizer: info@mopedix.cz , 602 617 498 .

Program, disciplines, rules subject to change. The organizer is not responsible for the weather. Gasoline and oil will be available at purchase price.
By submitting your application you agree to the processing of personal data for marketing purposes mopedix.cz (GOODPED, s.r.o., ID 09607731).